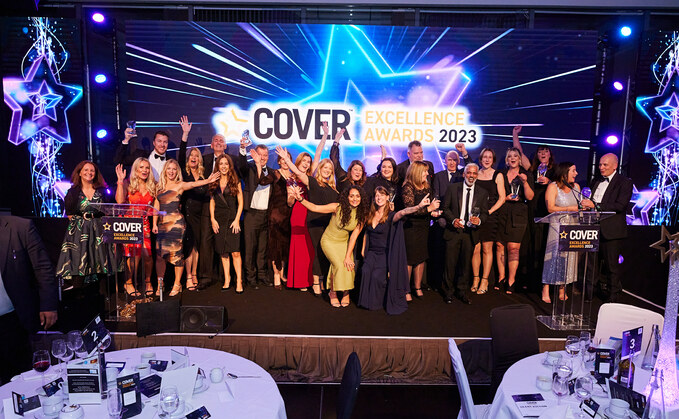 COVER is delighted to confirm all the winners and highly commended entries for this year's Excellence Awards.
The best and brightest of the protection and health insurance industry came together at the Leonardo Royal St Pauls in London last night (2 November) to celebrate both the COVER Excellence Awards 2023.
Hosted by comedian Lucy Porter, the ceremony drew 350 protection and health professionals to honour the best the industry has to offer.
The charity partner for the 2023 programme is the Victoria Cohen Eye Cancer Charitable Trust and you can help support the charity here or via the charity website.
In the provider categories Bupa was the big winner of the evening, scoring a hat-trick with wins in the Outstanding Added Value (Provider), Outstanding New Technology and Outstanding Group Health Provider categories.
Elsewhere there were wins for Aviva, Guardian, Royal London, MetLife UK, Zurich and Legal & General.
On the intermediary side, LifeSearch was announced as the Protection Intermediary of the Year, while Howden Life & Health (Assured Futures) took home the Health Intermediary of the Year award.
Meanwhile there were wins for Moneysworth, The Insurance Surgery, Cura Financial Services and Lifepoint Healthcare in other intermediary categories.
COVER was also pleased to recognise this year's Rising Stars - Lucia Jarvis of National Friendly and Hanna McKallip of Premier Plus.
Zurich's Peter Hamilton was again presented with the coveted Insurance Leader of the Year award, while Cura Financials' Krystle Skelton was recognised as the Intermediary of the Year (Individual Achievement).
Congratulations to all this year's finalists, highly commended entries and winners:
Outstanding Added Value (Provider)
Winner: Bupa
Highly Commended: Aviva
Outstanding Added Value (Third Party)
Winner: RedArc
Insurtech of the Year (Sponsored by MetLife UK):
Winner: iPipeline
Outstanding New Technology Offering
Winner: Bupa
Outstanding Cash Plan
Winner: Medicash
Outstanding Promotion of Protection
Winner: The Exeter
Highly Commended: AIG Life
Outstanding Mental Health & Wellbeing Offering
Winner: Health Assured
Highly Commended: Spectrum.Life
Outstanding Business Protection
Winner: Royal London
Outstanding Group Health Provider
Winner: Bupa
Outstanding Group Protection Provider
Winner: Zurich
Outstanding Protection Product Innovation
Winner: MetLife UK
Outstanding Individual Critical Illness
Winner: Aviva
Highly Commended: HSBC Life
Outstanding Income Protection
Winner: Guardian
Outstanding Individual Life Insurance
Winner: Legal & General
Highly Commended: The Exeter
Rising Star - Provider
Winner: Lucia Jarvis, National Friendly
Insurance Leader of the Year
Winner: Peter Hamilton, Zurich
Outstanding Adviser Network
Winner: Sesame Bankhall Group
Highly Commended: PRIMIS Mortgage Network
Employee Benefits Intermediary of the Year
Winner: advo
Small Intermediary of the Year
Winner: Moneysworth
Outstanding Client Engagement
Winner: Lifepoint Healthcare
Rising Star - Intermediary
Winner: Hanna McKallip, Premier Plus
Highly Commended: Hollie Osborne, Gemstone Mortgages
Excellence in Customer Service
Winner: Cura Financial Services
Highly Commended: Future Proof
Health Intermediary of the Year
Winner: Howden Life & Health (Assured Futures)
Outstanding Specialist Intermediary
Winner: The Insurance Surgery
Protection Intermediary of the Year
Winner: LifeSearch
Intermediary of the Year (Individual Achievement)
Winner: Krystle Skelton, Cura Financial Services
Related Content